CURIOUS PROJECT - MEET THE DYERS - BIG KNITTERS YARNS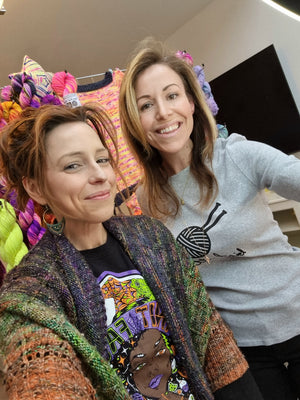 We've collaborated with Big Knitters Yarns and Lou Taylor for the Catch of the Day Curious Project, and Big Knitters created an exclusive hand-dyed yarn for the project. There are a limited number of Curious Project kits left, and you can still get your Catch of the Day here. 
This is what Ella from Big Knitters said when we asked about their yarns and their inspirations.
Tell us a bit about Big Knitters
Big Knitters are all about original, bold and bright coloured yarns along with on trend easy knits. Kim and I started Big Knitters back in 2015 with a mutual appreciation for knitting with giant wooden knitting needles that we used to custom make and sell. We moved our focus to patterns, and began to custom dye our own yarns after I took a dyeing masterclass with Somruthai Maugard of Hand Drawn Yarn.  We're supported by our knitting besties Emma Chadwick and Karen Jones, who test and help with inspiration.
How did you get into hand dyeing
At first our yarns were for family and friends but gradually we got requests for the yarn via social media so we created www.bigknitters.co.uk.  We offer repeat and limited edition hand dyed yarn in small batches with funny names.  We have a good mix of yarn bases available along with a yarn advent calendar (counting down to Christmas with yarn? Yes please!) and a mini five day Halloween yarn countdown too. Kim creates bespoke garments and we wanted bespoke yarn colourways too. The pandemic spurred us on to dye, design, create and make on a more formal basis, but due to work and family commitments it remains our hobby. 
What are the steps of hand dyeing?  How long does it take to produce a batch?
The theory of dyeing is relatively simple: prepare the yarn by soaking, apply the dye and heat to set.  Allow to cool, rinse, dry then knit! The application of the dye, the combination of colours and even the way the type of yarn is heated all produce very different results so there's a lot of trial and error.  It's the best way to learn though.
How did you create such vibrant colours for the Curious Project?
Lots and lots of trial and error!  As it was a whole new process and material, I had to learn how the dyes would react and what impact time would have. I followed YouTube tutorials but I wasn't getting the desired results.  An idea did come to me in a dream (honest truth it did), I tested it and was really pleased with how vibrant the colours were. I named it "The Sausage Method" mainly to make Louise laugh."
This yarn was inspired by Lou's crab illustration, but where do you get your ideas or inspiration for the other yarns you dye?
I'm often inspired by cult TV, art and even our customers' suggestions when creating new yarns. We love to see how our yarns are used by makers. We're very active on Instagram (@BigKnitters) and love to engage with our followers. To see our yarn used to make garments that will be treasured is a key part of why we do this.
What makes hand dyed yarn special?
Hand dyed yarn is a real luxury.  It's expensive because of the amount of time it takes the artist to produce it and because the yarn is high quality wool.  For most people knitting and crochet are a way to relax and help with anxiety. If they're making a jumper that is going to take them 30 or 40 hours to complete it's a real labour of love.  Using a hand dyed yarn makes the piece that extra bit special and the finished garment will be treasured, especially if they've been able to request a custom colourway. We're still very very small.  We have fewer than 1,500 followers on Instagram.  We can confidently say that our yarns are really exclusive simply because we only make limited runs each month which helps us focus as much on custom dyed yarns as we do our usual colourways.
What's the next project you're working on?
We're working on a super cute knitted cardigan kit that will hopefully be available for sale in Autumn 2021 via our website.  It's a collaboration, and all we can say about it right now is #BigMustardUnicorn
Leave a comment
Comments will be approved before showing up.
---
Also in News
Five easy Valentine's knitting patterns.