CURIOUS PROJECT - MEET THE ILLUSTRATOR - LOU TAYLOR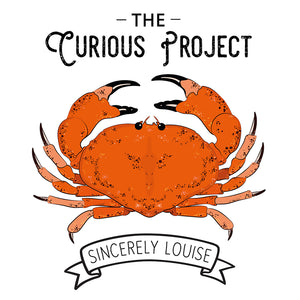 We've collaborated with Lou Taylor and Big Knitters Yarns for the Catch of the Day Curious Project. Lou created the striking and vibrant crab illustration that inspired this mystery knitting kit.
There are a limited number of Curious Project kits left, and you can still get your Catch of the Day here. 
Here's what Lou said when we asked her about her designs and her inspirations.
Tell us a bit about yourself?
I'm a designer/maker/artist from Dorset living in Brighton. I draw and design prints, jewellery, cushions, scarves, wallpaper. Anything you can print on, I'll do it! I'm totally self taught and so very proud I've ended up being stocked in places like Selfridges and the Royal Academy with my icon brooches. 
What inspires your designs?
Everything inspires my designs! I have quite a lot of diverse inspiration from vintage botanical illustrations to dazzle ships and pretty much everything in between. I feel like a magpie that hops along picking up random shiny objects everywhere I go. 
What was your design process for the Curious Project?
Louise and I had a very similar vision for what our crab should look like. I drew it first for the colour inspiration for Big Knitter's hand dyed wool. It's such an amazing orange I love it! I also  wanted to add in a bit of my laser cutting background hence the laser engraved trophy board the crab sits on. 


Tell us a bit about the process of designing and making jewellery.
I love a good delve into Pinterest which can take you all sorts of places and I love the juxtaposition of the pins on my boards which can lead to some fun ideas. I also sit and daydream a lot. Pre-Covid, fashion shows such as Gucci have been a massive influence on all illustrators and designers I think. It's definitely been a harder time to get real life inspiration from galleries and just being out in the world so I've really had to get all my old books out and feed my brain that way instead. 
If you could design a piece of jewellery for anyone, who would it be? 
I'd love to design a piece of jewellery for either Joe Lycett, or Dominic Skinner from Glow Up.


You make such a broad range of items, what are your favourite things to produce?
My favourite things to make at the moment are anything from my new Lover's Eye collection. Especially all those hand drawn pearls! 
What's the next project you're working on?
Keep an eye out for some blankets! 

Leave a comment
Comments will be approved before showing up.
---
Also in News
Five easy Valentine's knitting patterns.