Free Super Chunky Christmas Bobble Hat Pattern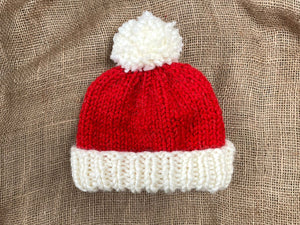 I love bobble hats! I've made them in almost every weight of yarn, from DK to super, super chunky, there's something so satisfying about making a hat. Every year I join Mr. SL's family on a trip to see Father Christmas on the Santa tram, in Shipley Glen, Leeds. This year I thought it would be fun to knit us matching Santa hats to wear on the journey! 
There are a lot of patterns out there for traditional Santa hats, but I wanted to make a bobble hat that I could wear everyday up until Christmas as my regular hat!
MATERIALS:
Rico Creative Twist - Super Chunky
20% alpaca, 80% acrylic, 75m per 100g
M - Main Colour - Red x 1 ball
C - Contrast Colour - Cream x 1 ball
You can use any super chunky yarn that achieves the same tension that I've used. I recommend using yarnsub.com to find the best alternatives. 
9mm (US 13) knitting needles - You can work this hat using straight needles and seam it up - that's what I like to do. Or you can knit it in the round, but you'll have to use the magic loop method or DPNs when decreasing the crown of the hat.

Darning Needle

TENSION: 
8 stitches x 12 rows = 10cm x 10cm (4in x 4in) using 9mm (US 13) needles in stocking stitch. Please swatch in M before starting this project as knitting it in the incorrect tension will change the size, and it may not fit. Sincerely Louise cannot provide any extra yarn if this project is knitted using the incorrect tension. 

FINISHED SIZE:
Adult - one size fits most.

ABBREVIATIONS 
K Knit
K2tog Knit 2 stitches together, decreasing from two stitches to one stitch 
P Purl
SKP Slip a stitch, knit a stitch, pass the slipped stitch over. Decreasing from two stitches to one stitch
St st Stocking stitch, knit a row then purl a row alternately 
Sts Stitches
* Repeat the instruction within the asterisks 

PATTERN

THE HAT - Make One of these
Cast on 46 stitches using C. I recommend using the long tail cast on method as it will give the hat an elasticated edge and create the first row of knitting, the pattern is therefore written from Row 2. You can watch my video on how to cast on using the long tail method here. 

Row 2 *K1, P1* all stitches 
Repeat Row 2 until the piece measures 10cm (4in) from the cast on edge. 
Next row Change to M, working all stitches in it from here on. K
Next row P
(If knitting your hat in the round, change all the purl rows to K rounds)

Work in stocking stitch, knitting a row and then purling a row alternately, until the piece measures 22cm (9in) from the cast on edge.
(If knitting in the round, K all rows until the piece measures the length stated above)

Next row With the right side facing you (you'll have previously worked a P row), K1, *K2, K2tog* eleven times, K1 (35 sts)
Next row P
Next row K1, *K1, K2tog* eleven times, K1 (24 sts)
Next row P
Next row K1, *K2tog* eleven times, K1 (13 sts)
Next row P

Cut the yarn leaving a tail for sewing up. Thread the yarn tail through a darning needle and then through the 13 stitches remaining on the knitting needle. Pull tightly, as shown below. If you knitted your hat using straight needles, you'll need to sew it together. If you worked in in the round, weave in the loose ends and go to the pompom instructions.

SEWING UP

Using the yarn tail, sew up the M section of the hat using mattress stitch.   
When you reach the C part of the hat, sew it together using mattress stitch in C. Weave the loose ends into the inside seams. 

POMPOM

Make a pompom using the C yarn. To make your pompom you could make a pompom maker or a piece of cardboard, or you can watch my easy pompom video! Sew the pompom onto the top of the hat. Weave the loose ends into the wrong side. Finally, fold the brim and spread some Christmas cheer!
Leave a comment
Comments will be approved before showing up.