CURIOUS PROJECT - MEET THE ILLUSTRATOR - SIAN ELLIS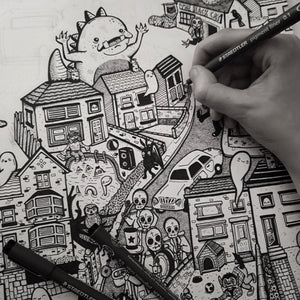 The Curious Project gets spooky with the latest instalment of our limited edition mystery knitting kit. Inspired by Sian Ellis' clue, we've put together a ghostly knit friendly enough to rival Casper, and you can get your River Styx knitting kit here.
We're so excited to be working with Sian on this project, it's going to be a scream! Sian is an illustrator and mural artist based in Sheffield, creating spooky, but cute, black and white illustrations inspired by folklore and Halloween and she also paints great big bright and colourful works of art for public display. We asked Sian more about her and her work.
Tell us a bit about yourself?
I'm an illustrator and mural artist based in Sheffield You'll either find me painting great big bright and colourful works of art for public display or I'll be I love horror films, Japanese food and my silly Bordoodle, Dot!
How did you get into illustration?
Completely by accident! I'm self taught and actually spent over a decade working in Charity Fundraising Events Management. I've always loved painting and drawing as long as I can remember, but I never used to show anyone my work. People close to me would see it and started encouraging me to share it online and they were also (much to my initial horror) telling people who needed artwork that I could create something for them if they got in touch with me. So I started accepting commissions for friends of friends, and sharing my work online which led to more people asking for commissions. Then people started asking for prints of my work too and the rest as they say is history!
What inspires your work?
Halloween and Folklore have a huge influence on my work, but never underestimate the hours that I will spend on a piece if I think that there's a good pun in it! I'm often inspired by historical and beautiful places too, so you'll be able to recognise places like The Shambles in York, Sheffield General Cemetery and Whitby Abbey in my work. 
How easy was it finding the perfect knitting ghost pun for the Curious Project?
Oh it was a challenge! I always love coming up with a good pun and was definitely excited to see what I could come up with that ticked off the incredibly slim niche of knitted ghosts! I had a long list of contenders and Amala and Louise got to whittle them down to find the ultimate pun. I really like the one they chose, it was definitely the most rock n roll of the bunch.
You feature your work in so many ways, like prints, jewellery and sculpture. What is your favourite type of project to work on?
I love working on portrait commissions because clients always give me such fun suggestions and a lot of freedom. I offer one option where I draw people's houses but turn them into haunted houses adding little ghosts and pumpkins and boarded up windows and another where I draw people's pets in Halloween costumes. I especially love the pet portraits because an integral part of it is people sending me pictures of their fur babies and I 'awwwww' every single time, who wouldn't?
We've seen you do a lot of spooky commissions, who would be your dream client to create a piece for?
If you haven't seen Guillermo del Toro's house then I implore you to give it a google. It is a treasure trove of vintage horror and spookiness. It would be a dream to have a piece up in his home, or better yet to paint a big spooky mural on one of his walls. 
This is a Halloween project. Are you planning on dressing up as anything this year, or what are your Halloween plans?
Ooooh I'm not sure yet! I'm definitely the sort who takes Halloween costumes very seriously. One year I was a retro alien from outer space complete with a homemade jetpack and ray gun, and even once a pirate complete with my own wearable cardboard pirate ship. In recent years I have always had an event to work on on Halloween so having a day off is definitely going to be a treat. There will be horror movies, there will be pumpkins and there will be snacks, but what else I'm not sure yet!
We've seen that you've done lots of trails recently? Where can we see your work, out in the wild? 
Most of the trails will be coming to an end in September but a lot of them will have farewell events where you can visit and see all the sculptures together in one place ahead of them being auctioned off for local charities. I've been somewhat of a prolific sculpture painter this year and actually have 9 sculptures currently on display. You can find my work as part of the Bears of Sheffield, Cows About Cambridge, Luton Big Trunk Trail, Stockport Giant Leap, Worcester's Big Parade and the Dartmoor Otters. If none of those are local to you or you'd like to see them all without travelling the many miles between, photos of them all are up on my instagram and Facebook pages. 
What's the next project you're working on?
A big project for me this year has been the release of my new zine 'Tell the Bees'. It's a factual zine with the occasional short fiction included, all inspired by folklore, strange customs and bizarre true stories from throughout history. The first issue was dedicated to my mum who we lost earlier this year and included all of the stories that myself and her told each other. Future issues will all be themed on topics from 'Strange Tales of Yorkshire' to 'European Folklore: Tales From My Travels'. Each issue is researched, written and illustrated by myself so they are definitely a labour of love!
Leave a comment
Comments will be approved before showing up.
---
Also in News
Five easy Valentine's knitting patterns.