CURIOUS PROJECT - MEET THE ILLUSTRATOR - BOO BOO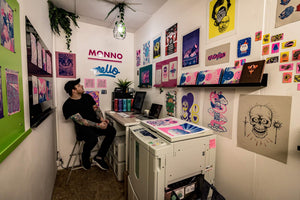 Make your winter super cute with our latest Curious Project. For the Hoppy Holidays bag, we've teamed up with illustrator Boo Boo (Carl Wilson), to bring you a classic Sincerely Louise snuggly knit with a Boo Boo twist. You can get your limited edition Hoppy Holidays knitting kit here 
We asked Carl to tell us about his illustrations and inspirations, and you can find out more below. 
Tell us a bit about yourself?
Hello! I'm Carl Wilson (Boo Boo). I live in Newcastle Upon Tyne and work as a university lecturer, a freelance animator and illustrator. I also run and operate a risograph print studio Monnoprint.
What inspires your work?
I've always enjoyed being outdoors too, travelling as much as I can (for as cheap as I can) and like to base pieces of work on where I visit. I played lots of Nintendo games growing up, and loved Super Mario, Zelda, and the Final Fantasy series and I feel that there are elements of my work which showcase that. I think I'm just very in touch with my childhood and that's a prominent theme in my work. I feel that becoming vulnerable and accepting that I have lots to learn is a good way to motivate personal projects, and it encourages me to try new things and refine processes whether it's animated, illustrated, produced in 3D or crafted into prints. I love all animals, particularly cats, and whilst I don't draw them all of the time I definitely feel like living with them makes you understand how endearing they can be, which is an element I like to include within characters I design.
Your animations are so striking. How do you create them?
I just like cute shapes and imagery, and realised a long time ago that animation is a way to express and communicate in a different way. I usually have ideas for short animations which I like to loop because they don't require too much of a time commitment. I do like to work on larger animations too, when I can. I draw my ideas out on sticky notes, mainly because working on a small area means I have to just get the idea down and not worry too much about anything else at that point. These ideas are drawn up digitally with either Procreate, Illustrator or Photoshop then animated using Adobe After Effects.
How did you get into illustration and animation?
To be honest a total fluke in some regards, but also not in every regard. I studied film at university because I liked making video content which revolved around skateboarding and music, which are two passions of mine. I never really took the plunge into working for any film or TV production companies, partly because I didn't want to live in London at that time in my life as I felt it was too fast paced and expensive for me. I preferred the idea of working independently, after watching one of my lecturers really get a lot back from just doing the work he wanted, for the people he chose, whilst funding his own projects and chasing his dreams. He's still doing it now, so lots of respect for Gurmit Samhra! When I moved to Newcastle (to teach film production), I was asked to work in an animation department due to my skill set but also allegedly because the staff liked the cut of my jib! So sometimes it really is who you know isn't it? Anyway working in the animation department, alongside some of the best and most talented people I could have asked to meet, introduced me to the subject area a lot more. I never studied art/design and actually never enjoyed it at school, as I wasn't being shown it in a way which made it accessible to me. I couldn't (and still can't) draw realistically, so being shown Adobe Illustrator was great as it made me realise how to draw digitally and accurately and also how my favourite skateboarding companies produced graphics for clothing and boards. Probably an odd revelation to have but it motivated me to make my own designs, whilst being introduced to printing, animating and illustrating. I fundamentally have those creatives to thank for impacting my life in a positive way, and for being patient with my early attempts to understand lots of information. There were lots of text messages late at night where I'd be asking for feedback or help off them, but ultimately this was the time I was putting in to become more accomplished at what I enjoyed whilst settling into the city that I now love so much because of what it's given me. So David Hails, Paul Smyth and Murray Lambert were the Jedi masters. That's a long answer, but I'd rather be truthful about it because we often feel there's only one way into it, being school > college > uni. Whilst I appreciate it is a great way to prepare people ,it's not the definitive one. Since that early stage I've been actively encouraged to share and exhibit my work, and take opportunities that present themselves. I have always shared my work across social media platforms and I've been fortunate enough to be approached by lovely people, such as Sincerely Louise, who've wanted me involved with their brands and businesses. This has taught me a lot about how to operate as a freelancer, and the worthwhile challenges that come with it for sure!
You've done lots of other collaborations, as well as the Curious Project. What have you enjoyed working on the most?
I have had some great projects to be involved with and collaborate on, and I feel that I've mostly enjoyed being autonomous and having creative freedom within them. It's always cool to see my work realised in different ways off a screen, which is why I'm SUPER excited to see the outcome of the Curious Project. My work has been used for educational purposes before, which is great. I don't really have a singular standout project, but certainly working with friends is also fun and would encourage anyone to try it because the feeling of co-creating art is lush!
Who would be your dream client?
This is a tough question. I asked my students this the other day as I struggled to think of one! Perhaps it would be a skateboard brand. Girl would be the company I'd want to design for, so if you're reading this Mike Carroll howay mate! I did create some Vans shoes a few years ago with my designs on. I've been wanting to make them into a full range ever since seeing my illustrations on a shoe, so really perhaps a shoe company. To be honest, any client who listens, is patient, understanding, has good values, is fun, and consists of real people I can get onboard with.
What's the next project you're working on?
I have recently been testing out how animations look when they are produced using a risograph format, which is a cool way to incorporate my print studio. For now I've dubbed it as risomation (mainly because I needed to for a Masters project). I'm working on some much larger projects using this method, which I'll be sharing in the new year. I'll be exploring crowdfunding and startup options whilst working collaboratively with other print studios. Essentially I'm aiming to get out of full-time education to focus on my own personal projects, and have fun doing what I love, whilst maintaining a viable source of income through freelance work. I guess really that's the next project.
What do you do outside of illustrating and animating?
I work on computers a lot so I very much enjoy switching off from the internet and the digital world, by exploring new and familiar places and being outdoors a lot. Being on a skateboard still makes me feel 13 so that's always fun, especially learning new tricks and rolling with friends. I love cooking and making pizza is one of my favourite things to do for friends, but only if it's Neopolitian because that's proper pizza (don't hate me internet). I do love living close to the beach. It's great to be in the water to relax, swim and jump waves. Afterwards it's nice to get cosy with food and drinks, and sit next to a fire in good company just being present with the moon and the sea. If you don't believe me, get some blankets and go try it!
1 Response
Leave a comment
Comments will be approved before showing up.
---
Also in News
Five easy Valentine's knitting patterns.